About NIMCO, Inc. — Your Source for Prevention Awareness Supplies
The Official Supplier of Red Ribbon Week since 1987
NIMCO, Inc. provides prevention awareness supplies for various campaigns, including Red Ribbon Week, Random Acts of Kindness Week and so much more. Our awareness promotional products are developed to support all the campaigns your school or community participates in that promote positive, affirming messages. We even specialize in creating custom promotional products that can be imprinted with your unique slogan or logo artwork.
If you need help gathering prevention awareness resources for your next campaign, feel free to reach out to NIMCO, Inc. today!
Trust Us for Red Ribbon Week & Other Drug-Free Promotionals
NIMCO, Inc., a leading provider of drug-free promotionals, has been closely associated with Red Ribbon Week since its beginnings in 1987. As the supplier of Official Red Ribbon Week merchandise, NIMCO plays a crucial role in supporting and promoting the annual drug prevention campaign. Our wide range of promotional products, which includes red ribbons, wristbands, banners, posters and other prevention awareness supplies, helps foster a sense of unity among participants.
By offering engaging and eye-catching drug-free promotionals, NIMCO, Inc. has significantly impacted the success of Red Ribbon Week, empowering communities, schools and other organizations to effectively spread the message of living a drug-free lifestyle.
Find Random Acts of Kindness Promotional Products
NIMCO, Inc. also contributes to fostering a positive and supportive community environment by providing Random Acts of Kindness promotional products. These items are designed to inspire and encourage individuals to perform kind and selfless acts, ultimately promoting a culture of empathy, compassion and understanding. 

NIMCO's promotional products, such as banners, bracelets, buttons, stickers and other materials, are tangible reminders of kindness's importance in our daily lives. With these Random Acts of Kindness promotional products, NIMCO, Inc. plays an essential role in spreading a message of goodwill and motivating individuals to positively impact the lives of others, ultimately helping to create more inclusive and caring communities.
Find Random Acts of Kindness Promotional Products
NIMCO, Inc. is not only a provider of Red Ribbon Week and Random Acts of Kindness promotional products but also offers a diverse range of awareness products aimed at promoting various social causes and fostering safe and healthy communities.
Our extensive catalog includes prevention awareness supplies for the following:
NIMCO, Inc. aims to promote positive change and empower individuals and communities to address various issues by providing a comprehensive selection of prevention awareness supplies. Contact us today so we can help make your campaign a success!
If you need to know more about NIMCO's awareness promotional products or policies, you can always reach out to us. Our team will be happy to help! In the meantime, check out the questions below and see our full FAQ page for assistance.
You can simply order online through the product page or contact us via mail or fax. Additionally, there are order forms available in the back of our catalogs.
We attempt to ship complete orders within 1-2 business days, but if items are on backorder, we may hold an order for up to two weeks to get everything together. If all the products have not arrived within that time, we'll ship the partial order. The standard shipping cost is 10% of your total (minimum $13). See our Shipping & Returns page for more info.
A number of our promotional products can be customized where noted. However, we do require all custom orders to be prepaid or paid via government purchase order, and we cannot offer returns. Custom orders require more lead time, with orders typically being delivered within 3-6 weeks.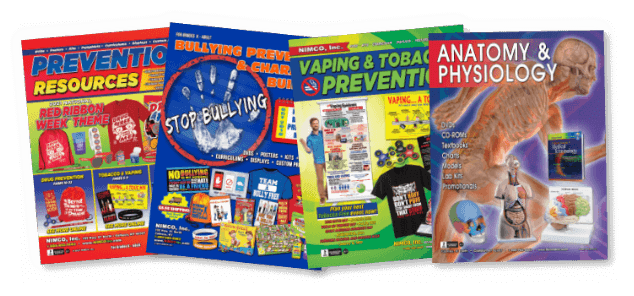 Request a FREE paper copy of our catalog
Prevention Awareness Supplies: Related Articles
Sign up to stay in touch with NIMCO!
Sign up for exciting product e-blasts and coupons delivered to your inbox.