Dangers of Edibles Poster: Same Thing Right? Wrong
June 7, 2021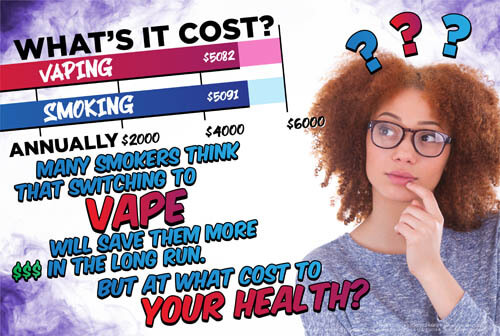 Dangers of Vaping Poster: What's it Cost
June 8, 2021
Dangers of Vaping Poster: Marijuana Legal Doesn't Mean Safe
SKU: 11422
As low as $9.95
Vaping prevention is a crucial concept in today's society. This 12"x18" colorful poster includes facts and images that will inform that marijuana isn't safe just because it's legal. NIMCO is a proud sole source provider of this great resource.
Dangers of Vaping: Marijuana, Legal Doesn't Mean Safe Poster, is an eye catching, hard hitting, prevention resource!
This 12"x18" poster is a great way to get the facts about legal marijuana out: Just because it's legal doesn't mean it's safe!